Shopping Online at Jposter.net
This section of the website is where you will find answers to questions regarding Shopping Online at jposter.net. if you don't find what you're looking for here, please check our Frequently Asked Questions.
PAYING FOR YOUR ORDER
All prices on this website are in US Dollars (USD), and payments are accepted via Paypal's secure payment facility. Paypal accept all major credit cards and currencies, and have guarantees in place to ensure your order is secure.
SHIPPING
B5 Posters (Chirashi) and Movie Programmes
Our low shipping rate is where you can really save, especially if you're buying multiple items. We ship worldwide airmail, for a shipping cost of $5 per 20 chirashi! Estimated delivery time is 7-10 working days. Your order may ship from either Japan or New Zealand.
B5 Chirashi and Movie programmes are shipped flat, and packaged well to protect your purchase in transit.
B2 Posters (Hansai)
A flat-rate shipping fee of $15 applies to all orders of B2 size posters.
Large sized B2 and B1 posters are packed securely inside a sturdy cardboard tube, with padding at either end to avoid edge damage. Our number one priority is to ensure your purchase arrives to you in the condition it was sent in.
SHIPPING TIMES
Delivery times vary slightly by region, but are usually between 7-10 working days (excluding weekends and public holidays). Once we have shipped your order we will advise you of the estimated delivery date. Your order may ship from either Japan or New Zealand.
IMPORTANT: Shipping times have been affected by delays due to the Covid-19 pandemic. Please see our Covid-19 Page for the latest updates.
PACKAGING
B5 Chirashi
Our main concern is that your purchase arrives to you safely. Your order will be shipped in a waterproof, light-proof, tear-proof PVC mailer envelope, reinforced with recycled cardboard to ensure your posters remain flat in transit.
The cardboard we use to reinforce your shipment is recycled from discarded cardboard boxes - not only does this keep mailing costs down, but its better for the environment too. This ensures that your posters won't arrive with corners creased or folded from rough handling in the postal system.
OUT OF STOCK PRODUCTS
Due to the collectible nature of these posters, we often have very limited quantities available - often just a single copy! When a product sells out, you will not be able to add it to your cart or purchase it, as we only sell items that we physically have on hand.
However, you can still add the item to your wishlist! This is a great way of letting us know that we should try to find another copy. If we are successful, you will then be able to move it to your shopping cart for purchasing. Think of this feature as a 'Poster Request' ... except there is no obligation for you to buy it.
SEARCH AND FINDING PRODUCTS
The site is divided into six main categories - B5 posters for Japanese Movies, Western Movies, Foreign Films, Anime, and Movie Programmes and B2 Posters. Simply select the area that interests you and browse through the listings.
We have added many features to make it as easy as possible to find your favorite posters. We hope you find the following useful:
The Sort Selector
By default, our listings display alphabetically based on the movie's title. However you can also use the Sort Selector to order listings in the following ways:
Lowest price - list lowest priced items first
Highest price - list highest priced items first
New Arrivals - list posters with most recently added titles first
Year - show titles from movies released this year first
Screenshot: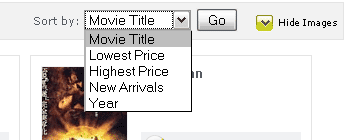 Genre Filter
While viewing the listings, you may be interested in a specific genre only. Simply choose one of the links at the top of the listings to narrow your search!
Screenshot:

Multi-page listings
For many searches, we have far too many items to fit onto one page. In order to keep the site as fast as possible, pages are limited to showing 20 items at a time. Don't forget to move to the next page! Page navigation is located below the listings, and allows you to move to the next page, the previous page, the first page, the last page, and points inbetween.
Screenshot:

Product Search
If you are looking for a specific title, please use our Site Search located at the top right of each page. If you can't find what you're looking for, try shortening your search phrase - maybe its listed under a slightly different name!
Note: You can search by almost anything from our search box - Movie Title, Director, and even by certain keywords. Give it a try! If you're looking for a certain actor or actress, check out our Actor Search and Actress Search.
In some cases, we just may not have the poster you are looking for - due to the very nature of authentic movie posters, availability is often limited. However, feel free to use our Request Form and we'll be happy to try and find it for you.
Screenshot:

List by Actor, Director, Country or Genre!
You may be interested only in posters for your favorite actor or actress, or perhaps you're a fan of a certain director, or collect posters of films from a specific country. We've built this site for movie-lovers just like you! In the left hand menu you will notice many ways that you can view our listings ... simply click a Menu Item for an expanded list.
Don't see your favourite in the menu? Click the last 'View All' item to see the full list.
Screenshot: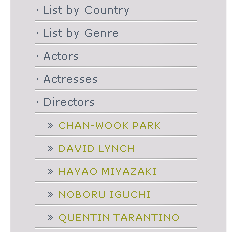 Finding related posters
When viewing any poster, you will notice that the Director and Actor's names are links. Clicking them will bring up a list of posters available related to that person.
And at the bottom of the page you will often find recommended posters that you might be interested in.
Your Wishlist / Shopping Cart - Selecting Items for Purchase
Just like a real shop you will not be charged for any items in your basket until you proceed all the way through the checkout.
From the Shopping Cart you can:
Proceed to the checkout
Add or delete items
Keep shopping for other items.
You may check the contents of your cart by clicking the Shopping Cart icon
at the top of the screen.
Got enough information? START SHOPPING!