About Chirashi
Chirashi are mini-posters/ flyers used to advertise movies in Japan. Due to the fact they are only available from movie theatres while the movie is showing, they are collectible movie memorabilia and rise in value based on age and scarcity.
Movie flyers are often printed on high quality paper, and are usually one page (2 sides) or a 2-page foldout (4 sides).
Custom Movie Art
What's best about Japanese movie posters is that much of the artwork is custom created for the Japanese market, with a distinctive Japanese design aesthetic. The Japanese poster will often look quite different to the artwork available in other countries. In many cases the design is superior, and some innovative releases include fold-out posters and specialty prints you won't find anywhere else.
Of course if you are a fan of Japanese movies, then these are the best option for obtaining Japanese movie memorabilia.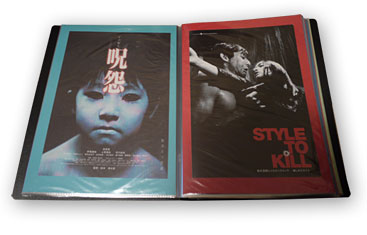 Chirashis stored in an A4 display folder
Poster Sizes
At present most of our posters are the B5 (7"x10"/18cmx26cm) size of movie posters - commonly referred to as Movie Flyers or "Chirashi". Due to their handy size and low cost, they are by far the most popular size of poster amongst Japanese collectors. Unlike larger movie posters, you can collect a wide selection and store them easily in an A4 or B5 sized folder, or display a selection on your wall (without requiring a mansion-sized wall to fit them!).
Affordable Movie Memorabilia
The vast majority of B5 Chirashi can be bought for under $20! While older and very rare sought after titles can occasionally command prices into the thousands, this is very much the exception. Along with the B5 size, Japan also produces posters in the larger B0 to B4 formats.
For hobbyists and those collecting posters for fun, the B5 format is a rewarding way to collect movie memorabilia. Those collecting movie posters as an investment generally prefer the larger formats which are much more expensive, but have the possibility of rising further in value.
Framing
If you want to display your posters framed on the wall, suitable frames are generally available at a fraction of the cost of framing a large poster. What's more, its possible to display a nice selection of your favourite movies on your wall - even if you have limited wall-space!
Glossary of Poster Terms
Term
Description
Release Year
This is the release date of the poster. Note: This can be different to the original release date of the movie (which is shown in brackets after the movie title).

A poster's Release Year can be different to the film's original release date for a number of reasons:

- The movie was released in a different year in Japan than in it's original country
- The movie was re-released at a later date (which is quite common in Japan for popular films)

As a poster's age affects the price, we show the age in brackets after the poster release date. This is why two quite similar posters for the same movie can have different prices.

Foreign Movies
Posters are roughly categorised into 3 sections:

Western Movies: Movies in the English language

Japanese Movies: Movies produced in Japan

Foreign Movies: For want of a better description, these are movies that are not Japanese and are not in the English language
Gatefold
A double-size poster folded in half to create two "pages" - both of B5 size. usually this is used to provide additional information about the movie on the two interior sides, but sometimes can be used to promote two separate movies, with one on the front page and one on the back. Occasionally deluxe versions are produced such as Tri-fold (3xB5), Quad-fold (4xB5) or more. Some fold out to create larger-size posters.

Examples: Alice in Wonderland, Planet Terror
UV Overlay
A glossy section has been printed on an otherwise matte poster to create a unique look.

Examples: Immortals, Gwendoline
Die-cut
Where an area of the poster has been cut out to produce a custom-shaped poster.

Examples: Robocop, The Descent
Metallic Ink
Reflective metallic ink has been used on the poster to create a premium quality poster that shines in the light. This reflective quality generally cannot be shown in our images.

Examples: Goldmember, American Psycho, Wanted
Mylar print
These are created by printing the poster design on top of a thin sheet of plastic called mylar which has been covered in either silver or gold metallic paint. The result is a unique 3D or mirrored effect.
Compression lines
Where light indentations have been made in the poster from storage. These are not creases, and usually are fairly unnoticeable when the poster is laid flat. These are regarded as a minor flaw.