About Chirashi
Chirashi are mini-posters/ flyers used to advertise movies in Japan. Due to the fact they are only available from movie theatres while the movie is showing, they are collectible movie memorabilia and rise in value based on age and scarcity.
Movie flyers are often printed on high quality paper, and are usually one page (2 sides) or a 2-page foldout (4 sides).
Custom Movie Art
What's best about Japanese movie posters is that much of the artwork is custom created for the Japanese market, with a distinctive Japanese design aesthetic. The Japanese poster will often look quite different to the artwork available in other countries. In many cases the design is superior, and some innovative releases include fold-out posters and specialty prints you won't find anywhere else.
Of course if you are a fan of Japanese movies, then these are the best option for obtaining Japanese movie memorabilia.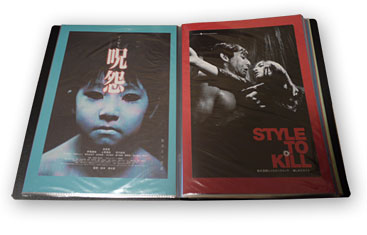 Chirashis stored in an A4 display folder
Poster Sizes
At present most of our posters are the B5 (7"x10"/18cmx26cm) size of movie posters - commonly referred to as Movie Flyers or "Chirashi". Due to their handy size and low cost, they are by far the most popular size of poster amongst Japanese collectors. Unlike larger movie posters, you can collect a wide selection and store them easily in an A4 or B5 sized folder, or display a selection on your wall (without requiring a mansion-sized wall to fit them!).
Affordable Movie Memorabilia
The vast majority of B5 Chirashi can be bought for under $20! While older and very rare sought after titles can occasionally command prices into the thousands, this is very much the exception. Along with the B5 size, Japan also produces posters in the larger B0 to B4 formats.
For hobbyists and those collecting posters for fun, the B5 format is a rewarding way to collect movie memorabilia. Those collecting movie posters as an investment generally prefer the larger formats which are much more expensive, but have the possibility of rising further in value.
Framing
If you want to display your posters framed on the wall, suitable frames are commonly available at a fraction of the cost of framing a large poster. What's more, its possible to display a nice selection of your favorite movies on your wall - even if you have limited wall-space!
There is a huge range of Chirashi available, and it can be a lot of fun building your own personal collection.
Large Sized Posters - B1 B-Zen and B2 Hansai
We stock a small selection of larger-sized posters for specialty collectors. Please note that shipping costs are higher for these items.
We hope you enjoy the site!